What did you do before joining Allen Associates?
I was an actress in the West End where I performed for five years. I have also worked as a personal trainer, marketing assistant and PA so I've had a rather eclectic career so far!
What attracted you to Allen Associates?
I was drawn to working in a close-knit and friendly team very close to where I grew up and where I could be closer to friends and family. But I was also attracted to Allen Associates' ethos which is all about building long-lasting relationships and delivering a great service, which is exactly the kind of environment I wanted to be part of.
The team is made up of an amazing group of people. I instantly felt welcomed and valued within the company. Everyone can have a say from resourcer to director.
What skills do you bring to your recruitment role?
I think my key skill lies in my ability to talk to people, making them feel at ease and like there is no wrong answer. I think all too often in a job interview it's about selling yourself, but people don't offer their best if they feel stressed and I like to think I help people relax. My other key skill is in working as a team; as an actress it was all about listening to your co-workers and responding accordingly – often with a fair bit of improvisation!
What do you think you bring to your client and candidate relationships?
I hope that I bring a bit of light-heartedness and fun to the relationships. I also hope to bring confidence that our team will deal with all enquiries with speed, efficiency and professionalism.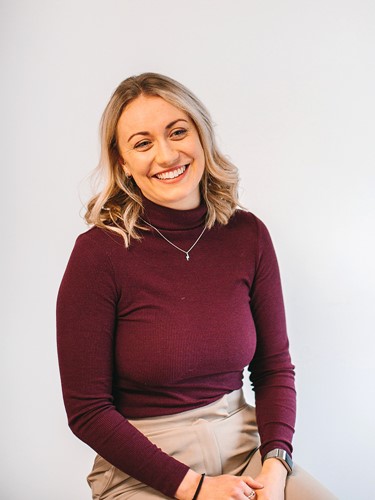 How do you like to spend your time outside of work?
I love being active. I spend a lot of time running/swimming/doing yoga. I love a good book and my house is covered in stuffed bookshelves. Since I was younger my family and I have loved hiking and I have continued this tradition; my partner and I have since climbed Snowden, Pen y Fan and are hoping to get up Ben Nevis! I have also started doing outreach work with Oxford's homeless community.
Why do you think recruitment is a good career choice and what advice would you offer?
It is so rewarding. We consistently receive messages from excited candidates who will now be able to get that house they always wanted/go on that trip/work in the industry they've been trying to break into for years, because of our help in placing them and that is a wonderful feeling.
Recruitment is a non-stop, exciting and challenging ride. If you are willing to work hard and care about people, the benefits are immense.