Working after a redundancy
Allen Associates,
News & Blog

Coping with redundancy is often much more than simply losing a job and having to find an alternative means of employment. It can be about taking the time to deal with the emotional fallout that may arise from being let go.
Although the UK government has offered furlough packages to prevent any unnecessary redundancies as a result of the coronavirus, it is thought that many redundancies may occur in the coming months due to the loss of businesses and the impact of a global recession. We know that many of our candidates could be impacted by job losses in the coming months. This is why we're sharing our practical advice to help candidates understand how to cope with redundancy and give them the confidence to become a stronger candidate in the future.
Coping with the emotional fallout
It is only natural to feel emotional at the thought of a redundancy. The emotional fallout of coping with redundancy has been described as something akin to grief, starting with denial, anger, through to bargaining, depression, and acceptance.
This emotional cycle is clearly shown through the Kubler-Ross Change Curve.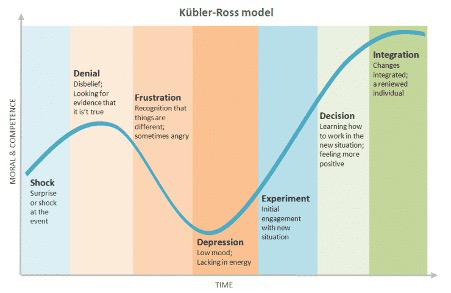 Infographic source: Cleverism.com
Candidates may find that they recognise aspects of their own feelings throughout this change curve. It's widely regarded to be an accurate gauge of feelings and knowing that these feelings are normal may enable candidates to take strength and develop coping mechanisms as they seek a new job role.
How to build up your confidence
Being made redundant can be a real blow to a candidate's confidence. Whilst they may rationally know that it's more about a reduction of numbers, it can be a difficult pill to swallow, particularly if other colleagues retain their roles. For candidates who have worked at a company for many years, it can come as a huge shock even if the job losses themselves were expected.
Many people who have been made redundant have described their experiences as being "devastating", feeling "betrayed" and "confused" and it is common for candidates to start doubting their capabilities as they move into the depression stage of the Kubler-Ross Change Curve. If this sounds familiar, then there are a few techniques that can be used to build up confidence and enable candidates to feel more secure in their abilities.
1. Take your time.
Once a candidate has been told the news, their head may be in a bit of a spin. Glassdoor suggests that those who have been affected by redundancy should "carve out some 'headspace' to think about what you'd like to do next, as opposed to what you think you ought to do."
There could be merit in taking a hypothetical approach. By removing the practical considerations such as salary, it may be prudent for candidates to use any notice period to think about what they want to achieve from their career. It may be the time to consider whether they want to remain working in a similar job role, or whether self-reflection could show that it's time to consider other options such as upskilling or retraining in entirely new areas.
2. Focus on positive relationships
Candidates may wish to foster positive relations with peers in a bid to boost confidence levels. Having someone who worked alongside them, or someone in an external field to reiterate capability could help to improve confidence. Candidates should be proactive about maximising any contacts that they've made – after all, networking is a valuable aspect of any job hunt.
It could also be beneficial to ask a respected peer to act as a mentor. Not only could they provide independent views and new ways of thinking, but they may be able to hold candidates to account through every aspect of the job hunt.
3. Use your business acumen
A practical tip is to use business acumen to personal effect. A strategic approach can not only determine what you want to achieve, but candidates can decide the specific tactics which will allow them to reach their vision. Breaking down the strategy into manageable goals can help candidates feel like they are achieving something and help them to identify their strengths and weaknesses.
Turning redundancy into a new opportunity
Redundancy doesn't always have to be viewed negatively. It could be the inspiration for candidates to benefit from new opportunities and push them to move out of their comfort zone into something new.
Candidates may use the time to look at their strengths and weaknesses. If they work alongside a mentor, they can identify opportunities for growth – perhaps their particular sector has new areas of development that they can tap into. For example, HR teams are now proactively looking for data analysts to help them make the most of personal data whilst marketing teams are also looking for recruits who can maximise the impact of SEO and PPC. Taking the time to research future growth areas of specific sectors can help candidates to find ways to strengthen their capabilities.
Candidates may also wish to incorporate a more flexible approach to their job hunt. Whilst it may be tempting to focus solely upon permanent employment, they may find greater pay off through short-term contract work or freelance opportunities. This can not only allow candidates to enjoy short-term financial support, but it can provide unique opportunities to move into different teams and gain greater experience.
At Allen Associates, we are experienced in working with candidates to help them find new opportunities after redundancy. To find out how we can help, please get in touch.
Share this article: