How are businesses being affected in Oxfordshire (and globally?)
Allen Associates,
News and Blog

The overall impact of Covid-19 will affect our global businesses, livelihoods, and emotional resilience long after the peak of the virus has saturated the headlines, and only in the aftermath of the storm can we hope to attain a fully rounded appreciation of how it infiltrated the pillars of progress and innovation that modern society claims to be founded upon.
Prior to the recent update, an unprecedented one quarter of UK companies closed temporarily amidst the pressures of the lockdown – with the "majority" reporting lower turnover and more than half a million under "significant" stress, according to the Office for National Statistics. The IMF has now forecast that the UK faces the deepest recession since the 1920s and 1 million businesses and 7 million workers are using the furlough scheme.
So how do we fare locally…?
Oxfordshire has been hailed as boasting one of the most vibrant and successful communities in the UK. It is among Britain's sparkling cultural paradigms and home to one of the finest educational establishments in Britain. But, this aside, Oxfordshire was also a top performer in Grant Thornton's Sustainable Growth Index appearing in the top 5 of 324 areas in both the Dynamism and Opportunity index and the Community Trust and Belonging index.
Intimate yet infinite all at once, Oxfordshire is an enviable marriage of innovation and tradition and an emblem of progress for many – a sentiment which many of our Clients proudly uphold seen both in their ethos and the high-quality Candidates they choose to employ. According to the Oxford City Council website, Oxford has enjoyed "extremely high" employment levels with knowledge intensive sectors such as Finance, Education and Healthcare making up 73% of total employment, no surprise given that 60.2% of Oxford's residents are qualified to NVQ Level 4 or equivalent, and above.
Nevertheless, the open roads and deserted high streets bear testament to the indiscriminate nature of Covid-19 across all industries over the past few weeks and months. Local Oxfordshire food suppliers have seen a drop in trade, and members of the Federation of Wholesale Distributors have seen a 70% decline in trade over the past three weeks since restaurants, pubs, schools and shops have been ordered to close. Oxford University, an emblem of tradition, stature and to many, insurmountability – not to mention an employer to 15,000 members of staff - introduced a recruitment freeze in April 2020, amidst the new financial constraints that the coronavirus has caused. Given that Oxford University was named "Top Employer By Clicks" in a March 2020 Indeed Hiring Insights Survey, for Marketing and other key industries, the impacts for not only Education but employment locally cannot be underestimated.
In key industries, 69% of Marketeers have witnessed demand for their products or services plummet, with organic traffic and SEO being worst-hit, resulting in a drastic decline in campaign activity and provision for future spend. As people management and HR turn to a new dawn of 'furloughing' and some Finance departments become an exercise in cost-cutting, "bricks and mortar" businesses such as public entertainment venues, shopping centres like the Westgate and much-loved Oxford picture houses face the challenge of a consumer base available only online.
"The Biggest Intervention since World War Two"
Yet, amidst all of the Orwellian negatives, the UK government have released a package of financial aid estimated to be worth some £350 billion in what aims to be an interim solution to deal with the effects of the coronavirus pandemic and crucially protect jobs. Not only have the government agreed to pay employees 80% of their salaries up to £2,500 per month, an interest-free Business Interruption Loan Scheme and a Bank of England Finance option were also announced for large businesses and SMEs.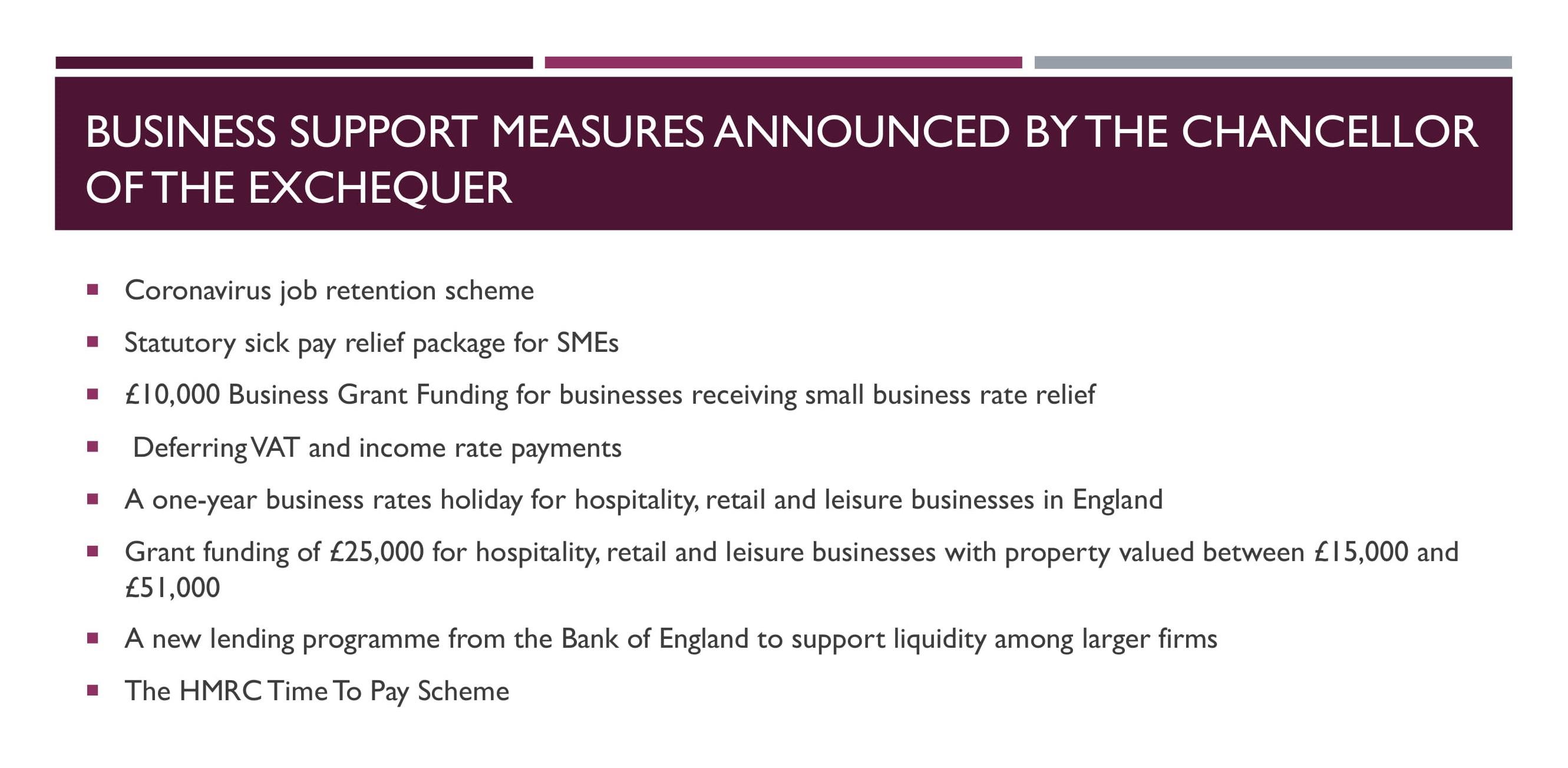 Full details of the options available to UK business can be found here. Alongside the government plans, The Thames Valley Chamber of Commerce are organising useful and thought-provoking webinars to help local SMEs understand and cope with Covid-19, with interactive discussions surrounding employee well-being whilst remote working, further sources of finance and crisis leadership and tips for innovation during a pandemic.
Ultimately, our new indoor society is beginning to bubble with innovative new ideas to offer virtual support behind the scenes, and what is apparent is that, as a community, Oxfordshire is laced with a delicately positive attitude that is building strength in its ability to emerge and surprise. As we move our candidate registration meetings online and identify opportunities to aid and advise, it is the spirit of the people in the county (and country) that is most heart-warming, as a communal sense of understanding and renewal becomes tangible. In a time of muddied uncertainty, a clarity about identity and priorities emerge, and in Oxfordshire there is certainly a clear identity that all of its people are proud of. What is apparent is that people want to make one another feel safe, engage in activities to help wherever and however they can, and ultimately they trust the integrity of businesses and institutions that will undoubtedly emerge once the dust has begun to settle.
The new future
Despite predictions that Covid-19 will mark; the dawn of a new digital age; the break-down of traditional industries unable or unwilling to respond and, according to serial entrepreneur Kirill Bensonoff, "an online future of entrepreneurship", there is one thing that everyone living through the pandemic can unanimously agree on – it is unprecedented. Those feverishly constructing neat graphs and predictions about likely outcomes are having to accept that the result may be overtaken by reality as soon as they are concluded – as we come to recognise that, outside of war, modern economic society has never before witnessed such a total standstill.
Despite this, according to recent data from labour market data supplier Emsi, opportunities are opening up in the key workers sectors and the medical and research spaces alongside the "bread and butter" societal employees, drivers and personal care assistants.
We have already witnessed employers become increasingly mindful about flexible working and the need for malleable approaches and processes, and that may just be the beginning. What is apparent is that both the private and public sectors are having to evolve fast in a new age of digital transformation of the National Health Service and other public sector organisations. And, just as we have witnessed the waters in Italy and the Yamuna river clearing and transforming as industry closures continue, individuals have become increasingly flexible about potential roles, capacity and ultimately their future.
Is this truly the Dawn of a New Age? If so, surely that age is, in its simplest form, that of agility.
Share this article: