Allen Associates to sponsor the OX5 RUN 2022 for the 13th year running
Allen Associates,
News & Blog

We are delighted to announce that we will be lead sponsor of the OX5 RUN 2022 in aid of Oxford Children's Hospital. This will be the 20th anniversary of this much-loved, five mile, family fun run which we have been proud to support for the last 13 years.
Our Managing Director, Kate Allen, said: "It's fantastic to be back on board to sponsor and take part in the OX5 RUN 2022. The event raises significant sums for a great local cause which has touched the lives of members of our own team as well as many of the businesses and job seekers that we work with. We hope that as many people as possible will get involved and enter, making this special 20th anniversary event the biggest and best one yet."
Kate added: "We hope that our clients, job seekers, family members and friends will join us in entering teams and walking, toddling, jogging or sprinting through the beautiful grounds of Blenheim Palace on Sunday, 20th March. It is always an enjoyable day out and I think we all get a buzz out of knowing that we are doing our bit for such a worthwhile cause." 

The OX5 RUN is a major fundraiser for Oxford Children's Hospital, enabling them to create environments and obtain equipment, resources and services that greatly enhance the experiences of the children and families that spend time there – and which they wouldn't otherwise be able to afford.
Community Fundraising Manager, Gemma Cole, said: "We are so excited to announce the return of our very special fun run in support of the Oxford Children's Hospital and to welcome back our sponsors, local recruitment agency Allen Associates, for the 13th year running. This amazing event at Blenheim Palace has raised well over £1 million over the last 20 years, and is an incredibly important event for our charity."
She added: "For the past two years we've had to go virtual, so we are really excited to return to the event's home at Blenheim Palace.  We'd love our past runners, families, friends and local businesses across Oxfordshire to lace up their trainers and help make the 20th OX5 RUN one to remember."
This year, local school Woodstock CE Primary, helped launch the OX5 RUN. Head Teacher, Christian McGuiness, Community Fundraising Manager Gemma Cole, our MD Kate Allen and Finance Director Rob Allen are among those pictured.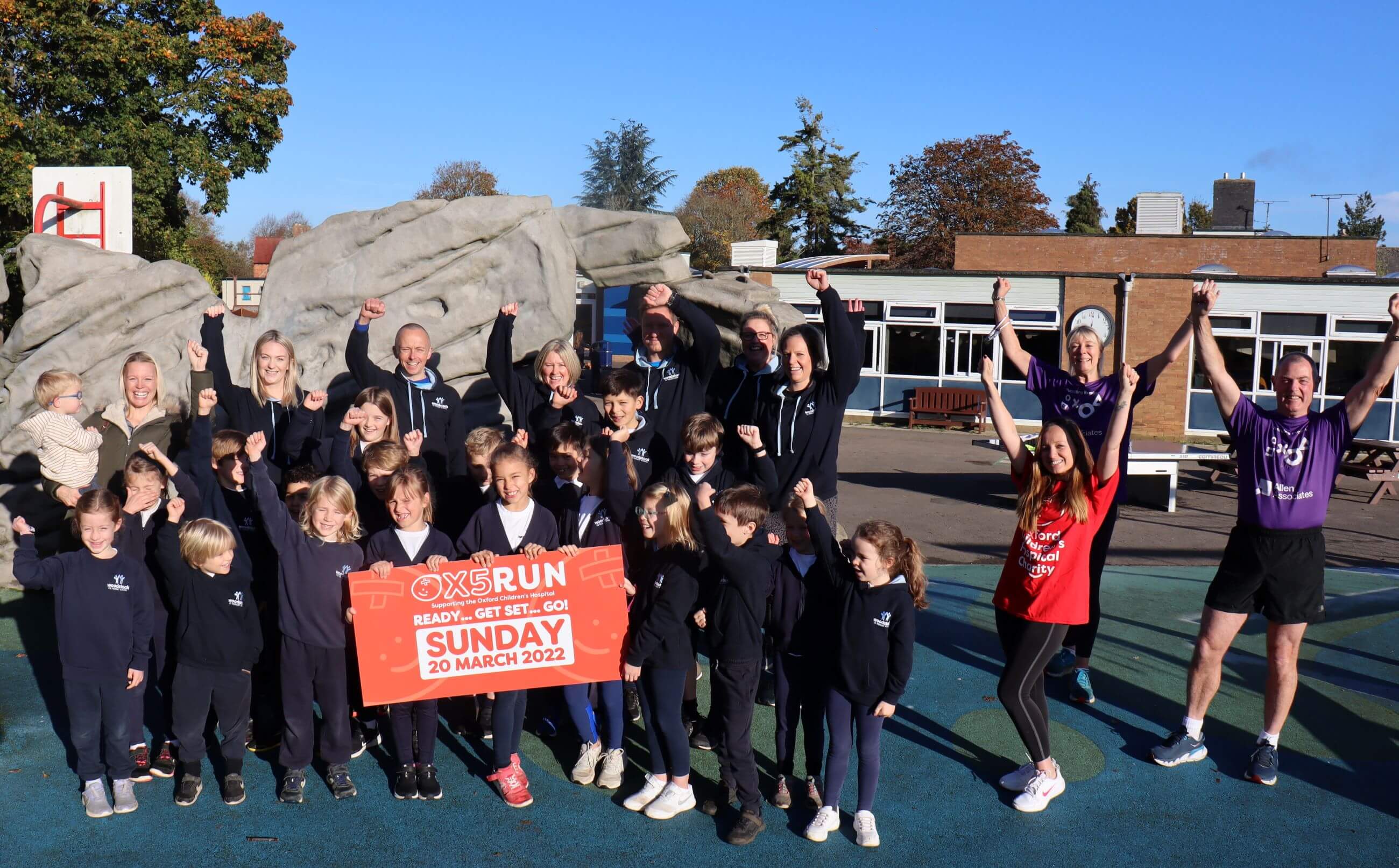 Sign up!
Entry for the OX5 RUN is now open. It costs £30 per adult and £17.50 for children over the age of 10.
Visit www.hospitalcharity.co.uk/ox5run for more information or to register.
Share this article: