Spotlight on our OX5 Runners

Allen Associates has entered a team of 17 in the OX5 RUN 2023 made up of our senior management team, consultants, support staff, family members and dogs!
A big shout out to our colleagues Kate Allen, Rob Allen, Eleanor Bromage, Hannah Naitram, Pippa Siret-Godfrey, Joanne Scholes, Katie Jaggers, Hannah Bush, Julia Madison, Charlie Clark, Lucy Hawkins and Ben Allen who have all signed-up.
We will be joining hundreds of others in walking or running the five mile course through the undulating (polite word for hilly) grounds of Blenheim Palace on Sunday, 26th March, to raise money for Oxford Children's Hospital.
Meet one of our recruitment consultants, Pippa Siret-Godfrey, and find out how she's preparing for the OX5 RUN.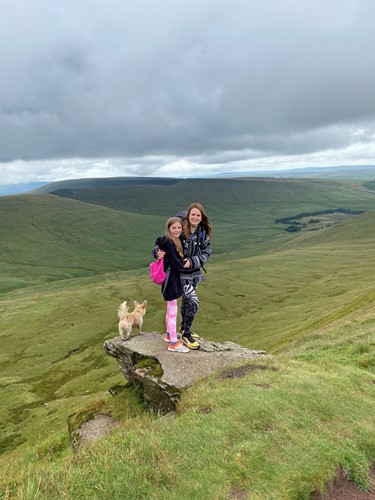 In the spotlight: Pippa Siret-Godfrey
Have you ever taken part in a community fun run before – and if so, how many times?
Yes – a few years ago I did it with my little doggo, Pablo, and it was a beautiful day – a real sense of unity. I loved it!
Who have you roped in to join you on the OX5 RUN?
I'll be walking with my 1-year-old son. I suspect he will be in a carrier on my front, although he is walking now so might want to stretch his legs occasionally! That might put us in last place though - I hope the organisers haven't packed up and left by the time we reach the finish line!
Are you doing any training to prepare for those notorious hills?
I've done a lot of walking and hiking in the past so I'm hoping that will help me. My most recent adventure was hiking in the Brecon Beacons with Pen Y Fan being the highlight of that adventure. It's 886m high! We did around 9 miles that day, up and down some very steep hills.
I did it with lots of my family members including my 11-year-old stepdaughter who didn't complain once! Oh, and Pablo the dog managed it too, although we did have to carry him for some of it to give his little legs a break.
I'm hoping the hills in Blenheim will be a doddle after that, although I didn't have a baby strapped to my chest back then!
What are you looking forward to most about the OX5 RUN?
I love the sense of community and togetherness that an event like this creates. We are all there for the same fantastic cause, so everyone is feeling positive and energised. No doubt I'll see a few familiar faces there too!
Do you have any links to Oxford Children's Hospital and is this a particularly special cause for you to be fund-raising for?
My stepdaughter was very poorly when she was a tiny baby and my partner always says how amazing the care and support was when they needed it. Now I have a son of my own, I can't even imagine the pain and distress people go through when their children are hospitalised. The work this charity does is absolutely incredible, and thanks to events like this, long may that continue.
Good luck Pippa!
Find out more about the OX5 RUN and how to get involved.
Share this article: